[RO] Prosumator în România, faza: Intimidare
Please note that articles marked with [RO] are in romanian language because present more interest for people in România or contains informations based on romanian law not applicable to other countries. I apologize if this is an inconvenience for you.
După multe discuții cu personalul operatorului de distribuție SDEE Transilvania Nord, atât în persoana cât și pe mail, am primit astăzi următoarea notificare:

Concluziile le trageți voi singuri, eu pot doar să pun un mare accent pe:

Oare s-au simțit jigniți că m-am adresat cu apelativul "Stimați tovarăși" într-o postare publică unei societăți care sistematic încalcă legea (ordinele ANRE 208/2018 și ANRE 228/2018 cât și legea energiei) și decizia ANRE 92/2020?
Nu pot să nu remarc că această notificare vine după ce SDEE Transilvania Nord a emis în cazul meu un nou ATR, după expirarea termenului legal de 10 zile conform deciziei ANRE 92/2020, ATR ce conține în mare parte aceleași nereguli ca ATR-ul vechi, puțin reformulate și după ce am tot formulat sesizări, reclamații și nu am primit nici măcar numere de înregistrare conform legii nici de la SDEE Transilvania Nord, nici de la ANRE.
Atât timp cât dreptul la liberă exprimare este în continuare garantat de constituția României, voi continua să mă adresez în spațiul public așa cum consider de cuviință, cu riscul ca anumite persoane să se considere jignite. Evident sunt îndreptățite să se adreseze instanței de judecată, dar până la proba contrară toate afirmațiile mele sunt dovedite.
Cât despre abuzuri și intimidări, nu sunt genul care să accept nici una dintre acestea și de obicei au tocmai un efect contrar în cazul meu și mă determină să merg mai departe cu mult mai multă fermitate, până la aplicarea corectă a legii.
Răspunsul meu la notificarea de mai sus:

Comparați și voi, ATR-ul vechi: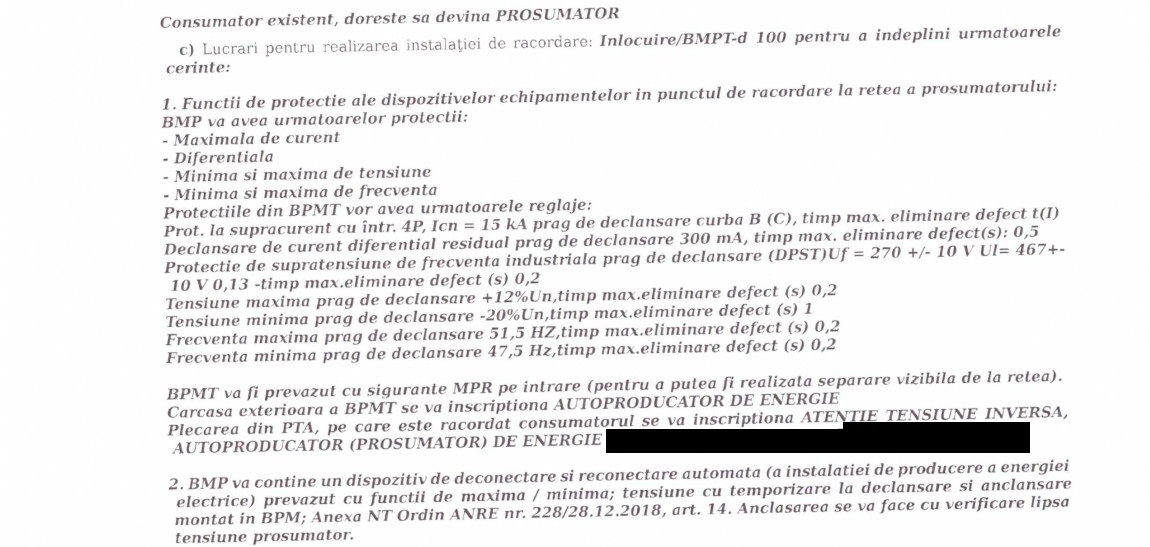 cu ATR-ul nou:
Cerințele din decizia ANRE 92/2020

Avizul Tehnic de Racordare inițial poate fi descărcat de aici.Decizia ANRE privind înlăturarea protecțiilor poate fi descărcată de aici.Noul Aviz Tehnic de Racordare poate fi descărcat de aici.Published by Marius Şerban at 17:20 on 11.02.2020 [EEST]